Workshop program
Joint program for REVE and WEESR workshops
Monday, 12th September. Room HS VIII
Time is in the Central European Summer Time CEST (UTC +2)
9:00 to 12:30 with a 30 minutes Coffee break at 10:00
9:00 - 9:15
Opening and welcome notes by workshop organizers
Presentation
9:15 - 10:00
Keynote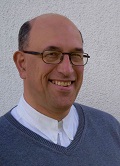 Serge Demeyer
Professor at the University of Antwerp (Department of Mathematics and Computer Science) and the spokesperson for the NEXOR research consortium.
His main research interest concerns software evolution, more specifically how to strike the right balance between reliability (striving for perfection) and agility (optimising for adaptability). He is involved in a few start-ups consulting his expertise on software architecture and test automation.
Social Coding Platforms Facilitate Variant Forks
Social coding platforms centred around git provide explicit facilities to share code between projects: forks, pull requests, cherry-picking to name but a few. Variant forks are an interesting phenomenon in that respect, as it permits for different projects to peacefully co-exist, yet explicitly acknowledge the common ancestry. The phenomenon of variant forks is quite common: in a recent study we found more than 400 open source projects originating from a common code-base. In this keynote we share our insights on the phenomenon of variant forks on social coding platforms. First, we report the results of an exploratory qualitative analysis on the motivations for creating variant forks. Next we illustrate how bug fixes may (should?) be transferred from one variant to another. As such we hope to inspire researchers to study the phenomenon of variant forks.
Presentation
10:00 - 10:30
Coffee break
10:30 – 10:50
Christoph König, Kamil Rosiak, Lukas Linsbauer and Ina Schaefer
Synchronizing software variants: A two-dimensional approach
Publication
Presentation
10:50 – 11:10
Javad Ghofrani, Paria Heravi, Kambiz Aghababazadeh Babaei and Mohammad Divband Soorati
Trust Challenges In Reusing Open Source Software: An Interview-based Initial Study
Publication
Presentation
Video
11:10 – 11:30
Ana Eva Chacón-Luna, Antonio Manuel Gutierrez, David Benavides and Lidia Fuentes
Design for the analysis of variability management in the industry
Publication
Presentation
11:30 – 11:50
Mohammadali Soleymani, David Morais Ferreira, Vasil Tenev and Martin Becker
A Prototype of a Crowd-sourcing Platform for Classification and Integration of Analysis Tools in Product Line Engineering
Publication
Presentation
11:50 – 12:00
Reflection on
10 years of the Reverse Variability Engineering workshop
. Contributions, discussions, case study catalogue, and a book.
Presentation
12:00 – 12:25
Workshop
discussion
: all attendees, moderated by workshop organizers
12:25 – 12:30
Closing